<------------- LIKE PLEASE !!

This weeks Mystery Game costs 20 Farm Cash Per Dart!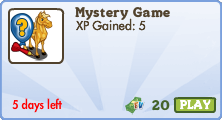 You can purchase chances at playing this week's Mystery Game at 20 Farm Cash per dart. You'll be a winner with every dart you purchase, but as always you are never Quaranteed to win all or any one specific prize featured in the game. It will be available in the FarmVille Market during the next 5 days only.

FarmVille Mystery Game (Released: May 22, 2011)


The following are confirmed prizes for this Mystery Game:

FarmVille Gold Stallion – Rare
FarmVille Gold Mini Stallion – Rare
FarmVille Golden Pony – Uncommon
FarmVille Blue Leopard Ram – Uncommon
FarmVille Brown Leopard Boar - UNCOMMON
FarmVille Golfer Duck -Common